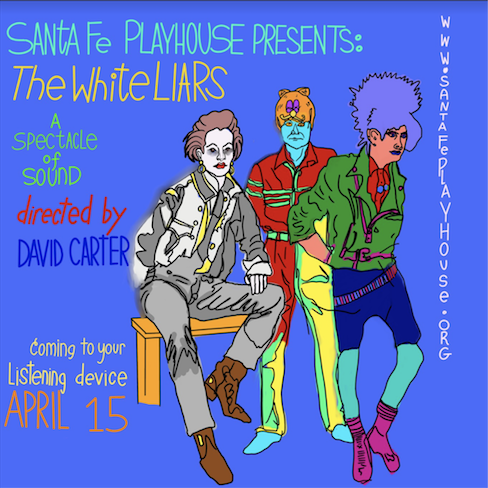 Thank you so much for tuning into The White Liars: A Spectacle of Sound. This is Santa Fe Playhouse's second ever radio production, and we are thrilled to offer it to our audiences for free. 
To discover more about the piece, please see statements from the Artistic Director and the Director of The White Liars below. 
"When I sat down over winter break after a year that felt as if I was living inside of the sea, being tossed this way and that, practicing flexibility, experimentation, acceptance, disappointment, and excitement I came across a collection of plays written by Peter Shaffer. For an entire day I was engulfed in his work. I found myself laughing out loud, gasping in shock and then sitting in silence. That is what I look for in a play. To be instantly engaged. To have the story connect to something deep inside of me as well as make me question my own personal biases. The White Liars did this.
I knew that SFP was going to have to produce another radio play, which is no simple nor easy task, but when I read this play, I thought: there is so much here to explore. So many stories within the story. Questions that come up. Sounds that transport. 
The themes of authenticity vs. dutifulness; appearance of understanding vs. true acceptance; relationships not being at all what they seem; and the masks that we wear; all experienced through the ear - felt a perfect, although risky choice to produce in the world of radio plays. And why not be risky with a radio play in a pandemic?
When I asked David Carter to direct the piece I knew that he would bring something totally unique to the process. With his love of Dramaturgy and his experience in the dance and music world he was the ideal choice as the person who would have the ability to mine the text, pick the out the richest layers, and lift this story off the page in order to create a world that you all would be able to immerse yourself in aurally. 
So, without further ado, hold onto your butts people, and get ready to dance. 
Thank you for listening and thank you for your support.
Peace and Love,"
Robyn Rikoon, Artistic Director
"This play, the work done on top of and around the text, seeks to disturb what we know.  Set in 1967--the swinging sixties and the booming economy of Britain--is a horror show of normality.  I am attracted to the horror of the known, the hypernormalisation of the current political war economies we live in, the violent politicalization of identity, our world burning with a climate emergency, and the global pandemic that has killed millions of our fellow humans, but prevents us from going to restaurants. None of us who worked on the play were born in the sixties, or in Britain (except our narrator!) but all of us inherited the commercialized dreams of the psychedelic age, and also the devastated, polluted, and sick world that stems from the post war era. 
And all we can do is dance through it. We didn't start the fire, but someone did. It may have been one of our characters in the work, it may have been one of us who listens to the work today, but all of us are burning because of it.  When the music plays, the sex sells, and the room gets hot: take off a layer and keep dancing.    
This play is the fear located in the Mainstream, the normalcy of death, pandemic, slavery, work life, and the complete abandonment of the human in favor of the character.  I hope you enjoy the piece, take a moment and reflect on where you are in our south seaside resort, and thank our actors, sound designer, stage manager, dialect coach, and musician who poured their hearts into a work that proves difficult to contextualize without rose colored glasses, sold to all of us so we can keep on keeping on. 
Have fun!"
David Carter, Director
If you would like to make a donation of any amount, please visit our website and click on the Donate button on the top right hand corner of your screen. Feel free to browse our website and check out what else the Playhouse has to offer in 2021. 
Take a moment to follow our YouTube, Instagram, and Facebook pages to keep up with the latest from Santa Fe Playhouse. 
A special thank you to our sponsor, Ralph Alan Real Estate Group, specializing in luxury homes in our beautiful Santa Fe, New Mexico and the Greater Santa Fe area. 
Santa Fe Playhouse extends a huge thank you to all of our artists and technicians that helped tell this story. 
To our fabulous cast who committed so much time and energy into lifting the script off the paper and into a microphone, thank you. Please visit our events page to learn more about each actor involved in the piece. 
David Carter, for taking the reins and creating the world in which The White Liars exists, thank you for excellent direction and a rehearsal room full of laughter and tears.
Zeke Farrell, Audio Extraordinaire, for diving into this work with an open mind and incredible ears. Check out some of Zeke's work here. 
Mikey Rae, for all of the artwork and original music, giving us the vibe of the century. Check out more of Mikey Rae's work here. 
Robyn Rikoon for dialect support, as well as her artistic direction helping to nudge us all along.
Annie Liu for all things Stage Management, and for supporting the production from a technical aspect.
And finally, Tim Crofton for his excellent narration and sparkling personality. 
Thank you to each and every one of you tuning into this Spectacle of Sound. We hope to see you in the theater very soon. 
Salut!
Santa Fe Playhouse
Share